The Muchesu Coal Project
Background Information
Contango has a 70% interest in the Muchesu Project ("Muchesu") in Zimbabwe, previously known as the Lubu Coal Project, with the remaining 30% held by supportive local partners.
The Muchesu Coal Mine covers 19,236 hectares of the highly prospective Karroo Mid Zambezi coal basin, located in the established Hwange mining district in north-western Zimbabwe.
Previous owners have expended more than $20m on Muchesu, which has enabled a sizeable resource in excess of 2 billion tonnes to be identified under NI 43-101 standard. A further circa US$10M has subsequently been spent by Contango on mine construction and development to bring Muchesu into production.
Contango is currently focussed on mining from Block B2, where extensive work has also been undertaken to define the specific properties of the coal. The coal seams within Block B2 are from surface down to a maximum depth of 47m, thus ensuring operating costs are kept competitive.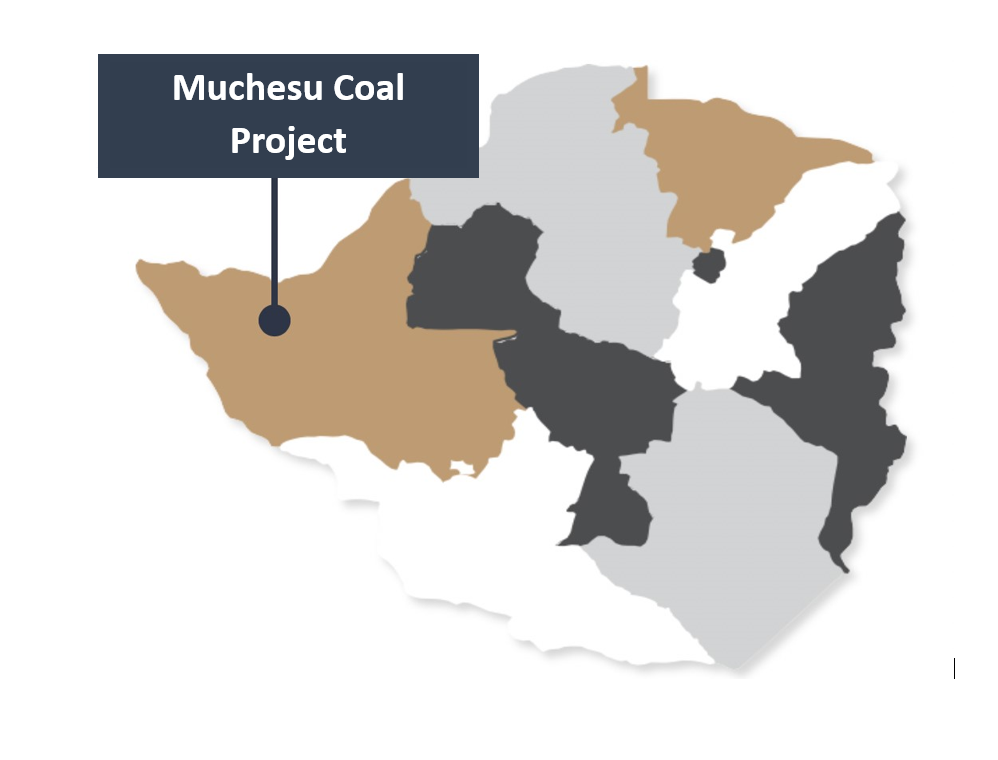 Coal Extraction and Production
The Muchesu deposit contains significant quantities of both coking and thermal coal and at Block 2, the ratio is approximately 60:40 thermal to coking coal. Whilst the initial focus is on coking coal, the Company believes the development of thermal coal sales would only require modest capital costs, funded from internal cash flow, to increase the scale of operations and infrastructure whilst the cost of mining is negligible as the thermal coal is effectively a by-product of the coking coal mined.
During the first half of 2023 the Company completed site works and installed and commissioned the wash plant and associated infrastructure. A large static screen was installed shortly after to improve production capacity and efficiency. Following the receipt of export approvals in August 2023 the Muchesu Mine is fully commissioned and was formally opened by the President of Zimbabwe, His Excellency Dr Emmerson Mnangagwa, on 1 August 2023.
The Company has an existing offtake in place for up to 20,000 tonnes a month and is looking to complement this with further offtakes to enable the monetisation of the full suite of coal products at Muchesu. As cash flows are generated the Company will look at additional infrastructure to increase washing capacity of coking coal and the commencement of production of thermal and industrial coal.
The Company also intends to produce coke by installing coke batteries that process coking coal into coke for the industrial and ferroalloy industries. The Company is looking to actively accelerate this plan, especially given current market prices and the increased margins from the manufacture of coke in comparison to coking coal production. The Company has received heightened interest from a number of potential partners and off takers with respect to the manufacture of coke at the Muchesu Project and are currently reviewing funding options and infrastructure with respect to the manufacture of coke, targeting production by the end of 2024.
Sales Agreements
Contango announced in July 2023 that it had entered into a new offtake agreement with TransOre International FZE for the sale of up to 20,000 tonnes per month of washed coking coal priced at the prevailing MMCZ market price. The MMCZ market price is a minimum price prescribed by the Minerals Marketing Corporation of Zimbabwe (MMCZ).
The Company announced in October that it had entered into an agreement with a leading steel producer for an industrial trial period in November 2023, following on from a detailed due diligence process. The company are confident this could result in a formal offtake agreement for an initial order of 80,000 tonnes per annum.
Furthermore, the company is in discussion with several other potential offtake partners, both for coking coal and industrial coal, in order to optimise its product mix and expects to announce other offtake agreements in Q4 2023.